How to update Porkbun Nameservers ?
---
Login to your Porkbun account

If you're already logged in, click on ACCOUNT in the top-right corner and select Domain Management.

Locate the domain you wish to update. Click the "Details" drop-down list to the far right of the domain name

Locate the "Authoritative Nameservers" field. Then select "Edit".

A pop-up window should appear with your current nameservers. This list specifies which DNS servers will be queried when a user looks up your domain. If you've never changed this setting before, the list is pre-populated with Porkbun's nameservers.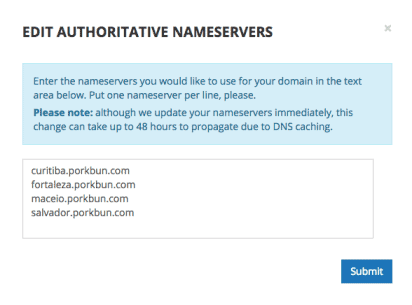 Remove all of the existing entries. Add the desired nameservers, one per line. Click the Submit button to save your changes.